To report a bug or make a suggestion, email Support omit this @ omit this NimbleText.com

NimbleText is a microIsv, created by Leon Bambrick co-creator of TimeSnapper
I'm a software engineer from Australia and a father of two.
I steadily improved NimbleText for five years before releasing it as a product. It was originally called 'The World's Simplest Code Generator.' and released through my blog (secretGeek.net)
I keep the lengthy release notes for every version in /version/notes.
NimbleText was improved by input and feedback sourced from the following helpful people:

Yaron Davidson
Peter McArthur
Matthew M.
Asbjørn Mikkelsen
And no doubt there were more contributors as well. Mostly it is built upon the patience and support of my awesome family.
Here's the support crew in action: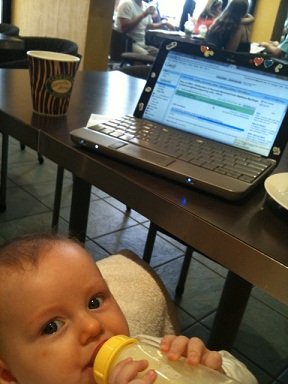 NimbleText includes two libraries from Steven Levithan. The excellent Date-time format library and the cross-browser split function. Steven co-authored O'Reilly's Regular Expressions Cookbook (now in its second edition) so I think you should go and buy that.
Command-line automation's parsing relies on the options class from Mono.
The 'nimble' icon was created using Paint.net and Sib Icon Editor. The 'report a bug' and 'make a suggestion' icons in NimbleText are from the famous Silk Icons set. The remainder of the icons are from Microsoft's Visual Studio icon set, or are original creations.
Some design decisions were made easier by looking at LinqPad. When in doubt, it is great to ask yourself "what would Joe Albahari do?"
Image of frustrated businessman by Zach Klein, Creative Commons 2.0. Happy monkey by Chris Lott, some rights reserved. Computer monkeys by Chris Lott, some rights reserved, Helpful headset hero from the Dutch Central Government is available under the Creative Commons CC0 1.0 Universal Public Domain Dedication.
Reflection images generated online with Generate It!
Animated Gifs captured with LICEcap.
Use of NimbleText is governed by the NimbleText End User License Agreement.